Clara Wieck Schumann lived from 1819 to 1896. She was a German musician and composer, considered one of the most distinguished pianists of the Romantic era. Her husband was the composer Robert Schumann.
Clara Josephine Wieck was born in Leipzig on September 13, 1819 to Friedrich and Marianne Wieck. Friedrich was a noted German piano teacher, voice teacher, piano firm owner, and music reviewer. Her parents divorced when she was four years old and Clara was raised by her father.
When Clara was eight years old, she met Robert Schumann while performing at the home of Dr. Ernst Carus, director of a mental hospital at Colditz Castle. Robert admired her playing so much that he decided to stop studying law and take music lessons from Clara's father. Robert took rooms in the Wieck household for about a year while taking lessons from Friedrich.
When Clara was eleven, she left on a concert tour of Paris accompanied by her father. When she was eighteen years old, she performed a series of recitals in Vienna. She was also named a
Königliche und Kaiserliche Kammervirtuosin
("Royal and Imperial Chamber Virtuoso"), Austria's highest musical honor.
She was one of the first pianists to perform from memory, making that the standard for concertizing. Trained by her father to play by ear and to memorize, she gave public performances from memory as early as age thirteen.
As part of the broad musical education given her by her father, Clara Wieck learned to compose, and from childhood to middle age she produced a good body of work. At age fourteen she wrote her first piano concerto, with some help from Robert Schumann, and performed it at age sixteen with Felix Mendelssohn conducting.
Robert Schumann had been attracted to Clara since she was fifteen. By the time she was seventeen, Schumann was in love with her. The next year, Schumann asked her father Friedrich for Clara's hand in marriage, but he refused. Friedrich did everything he ever could to prevent her from marrying Schumann, forcing Robert and Clara to take him to court. During this period, Robert wrote most of his famous songs, inspired by his love for Clara.
They married on September 12, 1840 and she continued to perform and compose after the marriage even as she raised seven children.
Clara and Robert met Johannes Brahms in 1853 and he became a lifelong friend to Clara, sustaining her through Robert's illness, asking for her advice about new compositions, even caring for her young children while she went on tour.
In addition to raising her own large family, when one of her children became incapacitated, she took on responsibility for raising her grandchildren. In 1849, during the May Uprising in Dresden, she famously walked into the city through the front lines, defying a pack of armed men who confronted her, rescued her children, then walked back out of the city through the dangerous areas again.
Clara often took care of the finances and general household affairs due to Robert's mental instability. She refused to accept charity when a group of musicians offered to put on a benefit concert for her. She made money by giving concerts and teaching and continued to play throughout her life not only for the income, but because she was a concert artist by training and by nature. Robert wanted a traditional wife to bear children and make a happy home and while she loved touring, Robert hated it.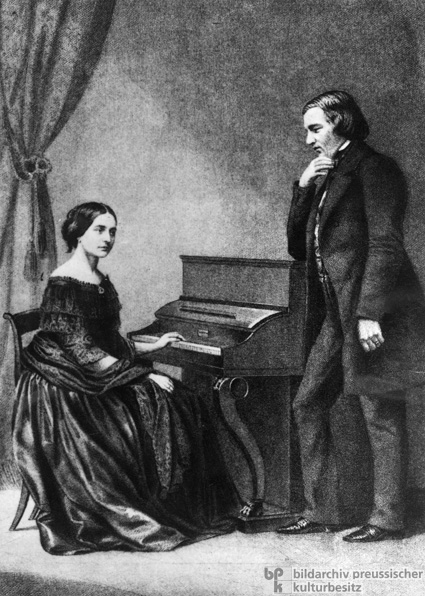 As she grew older, however, she lost confidence in herself as a composer, writing, "I once believed that I possessed creative talent, but I have given up this idea; a woman must not desire to compose -- there has never yet been one able to do it. Should I expect to be the one?" In fact, Clara composed nothing after the age of thirty-six.
Her family life was punctuated by tragedy. Robert and four of her children predeceased her. Her first son Emil died in 1847 when he was only one year old. Her husband Robert had a mental collapse, attempted suicide and was committed to an insane asylum for the last two years of his life. Her daughter Julie died, leaving two small children. Her son Felix died at age 25 and her son Ludwig suffered from mental illness had to be "buried alive" in an institution. Her son Ferdinand died at the age of 43 and she was required to raise his children. She herself became deaf in later life and often needed a wheelchair.
After Robert's death in 1856, Clara devoted herself to the interpretation of his works. During her last public concert in 1891 she played Brahms's
Variations on a Theme by Haydn
, in the piano-duet version. She suffered a stroke in 1896, dying at age 77. She is now buried at Bonn's
Alter Friedhof
(Old Cemetery) with her husband.
In the 1947 film
Song of Love, s
he was portrayed by Katharine Hepburn. Paul Henreid played Robert Schumann and Robert Walker starred as a young Johannes Brahms.
Today her compositions are increasingly performed and recorded. Her works include songs, piano pieces, a piano concerto, a piano trio, choral pieces, and three Romances for violin and piano.
*All information sourced from
Wikipedia
.